Selalu mengedepankan inovasi teknologi, hemat listrik, kualitas yang tinggi, user friendly, layanan after sales yang luas dan harga yang bersaing, inilah yang menjadikan POLYTRON makin di cinta oleh para penggunanya. Baru-baru ini, berlokasi di Jakarta, POLYTRON raih penghargaan Electronic Appliances of the Year 2022 pada pagelaran Golden Property Awards The People's Choice bersama Indonesia Property Watch dan 99 Group.
Penghargaan bergengsi di bidang properti yang pertama dan satu-satunya tersebut di gelar dengan melemparkan poling dan survei kepada masyarakat luas selama kurun waktu beberapa bulan dengan total 38 kategori penghargaan, dengan jumlah suara lebih dari 136 ribu voting yang tersebar di berbagai kota besar di Indonesia.
Albert Fleming selaku General Manager of Home Appliances POLYTRON mengatakan, "Kepercayaan yang diberikan masyarakat Indonesia kepada POLYTRON melalui hasil poling Golden Property Awards 2022 ini sangat bernilai bagi POLYTRON, kami berkomitmen akan terus mengedepankan kepuasan pelanggan agar selalu berada pada posisi pertama di benak konsumen".
"Berbagai inovasi dan teknologi terbaru juga kami kedepankan, misal teknologi Aroma Boost yang terdapat pada mesin cuci Zeromatic Laguna, teknologi IoT pada AC Smart Neuva Pro, teknologi Vacuum Compartment pada kulkas Belleza Varia, dan lain sebagainya, guna memberikan elektronik terbaik untuk para pengguna. Dengan teknologi maka aktivitas harian menjadi lebih mudah, praktis dan membantu", tambah Albert.
POLYTRON sebagai brand elektronik yang telah berdiri selama 47 tahun, membuat namanya makin dikenal masyarakat luas, lebih-lebih saat ini POLYTRON makin luas berekspansi pada jajaran kendaraan listrik, masker kesehatan, air purifier, sterilizer box dan sebagainya. Dengan kekuatan brand POLYTRON yang melekat, sinergi yang kuat dan jaringan layanan purna jual yang tersebar di seluruh nusantara membuat kemenangan Golden Property Award 2022 The People's Choice menjadi nyata dan menjadi kebanggaan untuk POLYTRON atas konsistensinya selama hampir 5 dekade.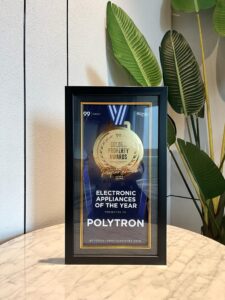 Produk POLYTRON yang diluncurkan merupakan produk yang telah dikembangkan secara mandiri melalui badan riset dan pengembangan atau R&D milik POLYTRON yang berada di Kudus, Jawa Tengah. Dan penghargaan Golden Property Award 2022 ini merupakan bukti bahwa POLYTRON hadir dan melekat di benak konsumen, sehingga pemilihan dan pembelian elektronik yang utama dan secara sadar ada di dalam pikiran masyarakat adalah merek POLYTRON.
"Harapannya POLYTRON selalu menjadi pilihan pertama bagi masyarakat Indonesia, dan dapat menjadi brand elektronik yang mendunia. Dengan penghargaan ini juga sangat membuka peluang besar untuk terus meningkatkan market share produk elektronik POLYTRON dengan output berupa penjualan yang lebih baik untuk bangkit dari masa pandemi kemarin", tutup Albert.