Dual Power
PTS 2K25 menjadi sebuah perangkat yang sangat praktis untuk segala aktivitas Anda karena dibekali dengan Dual Power: AC & Battery yang memiliki daya tahan hingga 6 jam (normal playtime music) tanpa harus menggunakan listrik.
Super Bass Control
Dengan teknologi XBR Woofer khas Polytron, PTS 2K25 dapat menghasilkan Bass yang jauh lebih mantap, detail, dan merata di semua posisi dengar. Perangkat ini juga dapat mengontrol Super Bass, jadi ketika posisi volume sedang, rendah, atau kecil pengguna dapat memutar tombol Super Bass agar nada rendah atau bass level dapat terdengar lebih kuat dan mantap.
New Top Panel With 5-Band Equalizer
Hadir dengan Top Panel Control membuat Anda lebih mudah dalam melakukan pengaturan untuk Super Bass, Volume, Mode, maupun Equalizer yang sudah dapat diatur sesuai preferensi yaitu dengan 5-Band User EQ, maupun secara otomatis dengan 6 Presets Equalizer yang sudah tersedia yaitu: Rock, Pop, Classic, Jazz, Flat, dan Outdoor.
Bluetooth + EDR support with Polytron Audio Connect
Memutar musik pada PTS 2K25 ini sangat mudah karena dukungan Bluetooth + EDR serta dilengkapi juga dengan Polytron Audio Connect yang membuat Anda dapat mengontrol speaker langsung dari smartphone. Ditambah dengan hadirnya Optical, USB, SD/MMC, Aux, dan Line Input membuat Anda semakin fleksibel memilih sumber musik.
1 Mic Input + 2 Wireless Mic
Dilengkapi dengan 1 Mic Input dan 2 Wireless Mic yang dapat menemani segala aktivitas Anda baik untuk meeting, seminar maupun berkaraoke dengan keluarga dan teman. 2 Wireless Mic ini telah tersedia gratis dalam paket penjualan PTS 2K25.
Band Input
Untuk Anda yang gemar bermain gitar atau keyboard, nikmati fitur unggulan Band Input dari PTS 2K25 untuk hasilkan suara alat musikmu lebih keras dan mantap.
Dual Power
(AC & Battery)
5-Band User Equalizer
with Preset EQ
Bluetooth with
Polytron Audio Connect
USB, SD Card/MMC,
Aux, Line Input, Mic Input
Band Input
(Guitar & Keyboard)
All Portable Speaker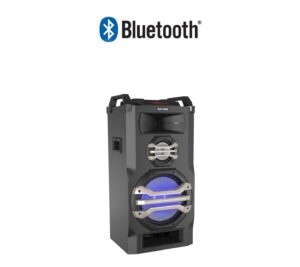 Out of stock
Add to Compare